Our custom furniture is hand-made in Michigan by our experienced furniture design team. We primarily use reclaimed barn wood for many of our pieces but we work with many other kinds of wood. Since each piece is custom, handmade, and uses reclaimed wood, no two pieces are the same. If you're interested in getting your own unique piece of furniture, contact us today for a free quote. Be sure to check out our gallery below!
Custom Hutches
Hutches are a great place to store and display your fine china and glassware. Most hutches feature two main parts. The lower portion consists of cabinets and drawers with a tabletop, similar to a buffet. The upper portion sits on top of the lower portion and usually consists of shelves or cabinets. Having a hutch in the dining room is a great way to store your dishes and keep them nearby.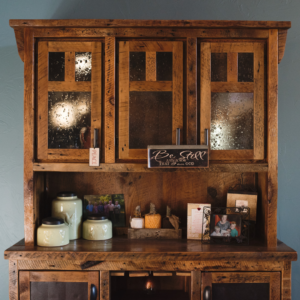 Entryway Coat Lockers
A coat locker is a great way to organize your entryway and keep all of your coats, hats, and scarves in one place. Not to mention, shoe storage if you opt for it. This will help to declutter your space and make it more functional. A custom coat locker will ensure it fits your needs and style. Here are some great reasons why you need a coat locker in your entryway. It's practical and functional for everyday use while being stylish and adding to your home.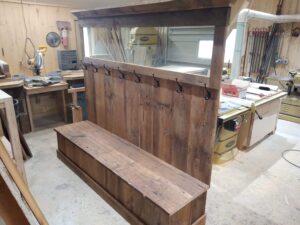 Custom Dressers
With a custom dresser, you can create an organized space with your wardrobe in mind. You know what you want in your dresser and where you want it. Have it customized for your items so everything fits as it should and makes it easy for you to access. Custom dressers are all about making sure the space is tailored to fit your needs without any wasted space. By having the chance to customize everything from the style of wood it is made of to where the drawers are placed, it will fit your style and needs.
Custom Benches
Custom benches can be used in many different locations as they offer a stylish place to sit. Benches are a great way to add seating! We have built custom benches to be used for dining tables, entryways, closets, and more. These can be used any place that you want to add some seating. We can also create custom outdoor benches for you to use on your porch or patio as well! These are great for sitting around a bonfire or just enjoying the outdoors with your friends and family.
Custom Beds
Looking for a custom bed and matching nightstands? We would love to help you! If you just want a custom headboard, we can do that. If you want a full bed with matching bedroom furniture we can do that too! Don't spend your time searching for a wood bed that you like, let us create the vision that you have. We can customize everything you want, from posts and headboards to under-bed storage.